These are the Voyages of the U.S.S. Polaris...
One-hundred and fifty years ago, the major powers of the Beta Quadrant signed the Treaty of Neaua, banning them from a twelve sector large area of space since known as the "The Preserve." Now, the treaty has expired, and the Neauan Hydrocracy, who brokered and enforced the treaty, have refused all attempts at communication. The Galaxy-class U.S.S. Polaris, having undergone an extensive refit, has been tasked to enter The Preserve and assess the current state of the region.

While her origins date back to the Dominion War, the Polaris has served in many capacities since and is primarily a ship of exploration and diplomacy. Under the command of Lieutenant Commander Deianira Coldbright, the Polaris's mission is intended to be one of peace.

The Preserve however is a densely packed region, filled with sentient life and unique spacial phenomena. What new frontiers await? Join the crew to find out!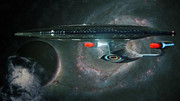 Latest News Items
Posted on Thu Jul 26th, 2018 @ 12:09am by Lieutenant Commander Deianira Coldbright in General News
Greetings,
Our prologue mission, "Everything Old..." is now live. Please check the mission section of the site, under the U.S.S. Polaris option. Make sure to click into the mission title and read the summary as there is more info there than is in the short description. Looking forward to writing with you!

Tom
Latest Mission Posts
Mission: Prologue: Everything Old...
Posted on Fri Sep 21st, 2018 @ 1:09pm by Lieutenant Jaen Ochoa & Lieutenant Commander Deianira Coldbright & Lieutenant JG Francesco Saldo & Petty Officer 1st Class Walker Nguyen
ON:

Walker had kept the fire suppression force field active even after the burning plasma had been extinguished, keeping the ambient radiation and the smell of ionized metal and plastics at bay. While waiting for commander Coldbright to arrive he'd been working at the access station to try and locate…
Mission: Prologue: Everything Old...
Posted on Fri Aug 24th, 2018 @ 3:15am by Lieutenant Commander Deianira Coldbright & Petty Officer 1st Class Walker Nguyen
Towering banks of isolinear chips lined the walls of the Polaris' primary computer core casting a blue glow across the dimly lit room. With a satisfying click petty officer 1st class Walker Nguyen inserted another chipset into an open port. He had arrived two days ago, along with his wife,…
Mission: Prologue: Everything Old...
Posted on Thu Aug 23rd, 2018 @ 2:17pm by Lieutenant JG Arden Bentzen & Lieutenant Commander Deianira Coldbright
ON:

Not only had the U.S.S. T'Vrel been tasked with the delivery of a portion of her crew, but was also carrying two Danube-class runabouts assigned to the Polaris. One of the few senior staff who had been among the first arrivals was lieutenant Arden Bentzen, who Deianira had selected…
Mission: Prologue: Everything Old...
Posted on Tue Aug 21st, 2018 @ 2:30am by Lieutenant Commander Deianira Coldbright & Lieutenant JG Francesco Saldo
ON:

Doors parted and lieutenant commander Deianira Coldbright entered the office intended for the the ship's chief of operations. Across the room, behind the semi-circular metal desk she could see the crouched form of ensign Francesco Saldo, whom she had come to know as Gio during the last year. The…
Mission: Prologue: Everything Old...
Posted on Sun Aug 19th, 2018 @ 10:42pm by Lieutenant Jaen Ochoa
Jaen sat on the floor her legs crisscrossed under her as she looked around the items that lay in a semi-circle in front of her. The menagerie of items were of a personal nature. A holo-image of a group of people their hands held raised glasses and all were smiling.…